Pat West, Owner
Pat West, owner of Vinos Finos has spent almost half his life in North Carolina, starting with undergraduate school. After spending many years as a CEO for a major healthcare company in North Carolina, he decided to indulge his passion for great wine and great company and opened a wine café.
Ginia West, South American Food Consultant
Ginia was born in the USA, but spent the first 14 years of her life in Lima, Peru. She went to a bilingual school where she learned to speak English and Spanish fluently. At the age of 14, her father relocated back to the USA but she has continued to visit her sister and extensive extended family in Argentina. Today, she owns her own business as a Spanish interpreter.
At Vinos Finos, Ginia serves as a South American food consultant ensuring that the food items are prepared to her specifications and that the food is attractively placed for display. Ginia travels extensively to various wineries in South America meeting with winemakers, salami/cheese vendors and a variety of other vendors, bringing our customers the best that South America has to offer.
Andrew West, Ambassador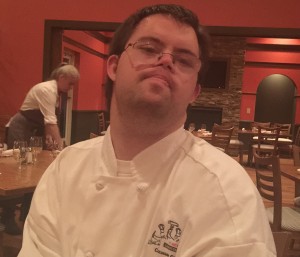 Andrew West came into this world in the usual way, except he was a special gift to two people who worked with handicapped children in their early careers. Andrew (our son) was born with Down's syndrome. Andrew attended Wakefield High and graduated in 2014. Andrew was trained in food service at SAS Institute in Cary for over three years learning how to work in the company cafeteria. Andrew does a variety of chores for Vinos Finos including busing tables, greeting customers, bringing glasses and dishes to the dishwasher and stocking shelves/supplies.
Andrew takes great pride in being a gentleman and has changed many peoples' lives because of his enthusiasm for life. This Raleigh Tapas and Wine Bar allows Andrew to have employment while he is under our watchful eye. We are proud to have Andrew serve on our team of staff members, that are dedicated to pleasing you and ensuring that you have a great time while visiting our establishment.
Luciano Peddis, General Manager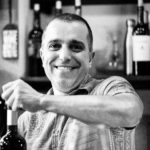 Born in Sardinia, Italy, Luciano has worked for many years in the hospitality and food industry at high-end hotels and resorts in different European locations, before moving to the U.S, where he continued his career in the restaurant business. We are glad to have him leading our operations with expertise and passion.
Chef Silvano Garcia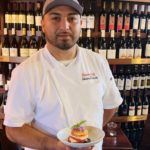 Silvano is our Executive Chef. He moved to the United States as a young boy from Mexico City, and attended a culinary school in North Carolina. In his career, he has worked at many fast-paced, high-volume restaurants. Eventually, he joined Vinos Finos where his talent and skills shine. His creativity and attention to detail is reflected in each dish that he prepares, and the flavors of his cuisine match his presentations.
"Bubbas" West
The immediate family knows her as "Bubbas" which is what Andrew called her when trying to say "Grandma". Jean was the initial investor who made this dream a reality. Raise your glass to Jean for giving us all a nice place to have fun and experience fine wine! Salute Bubbas!